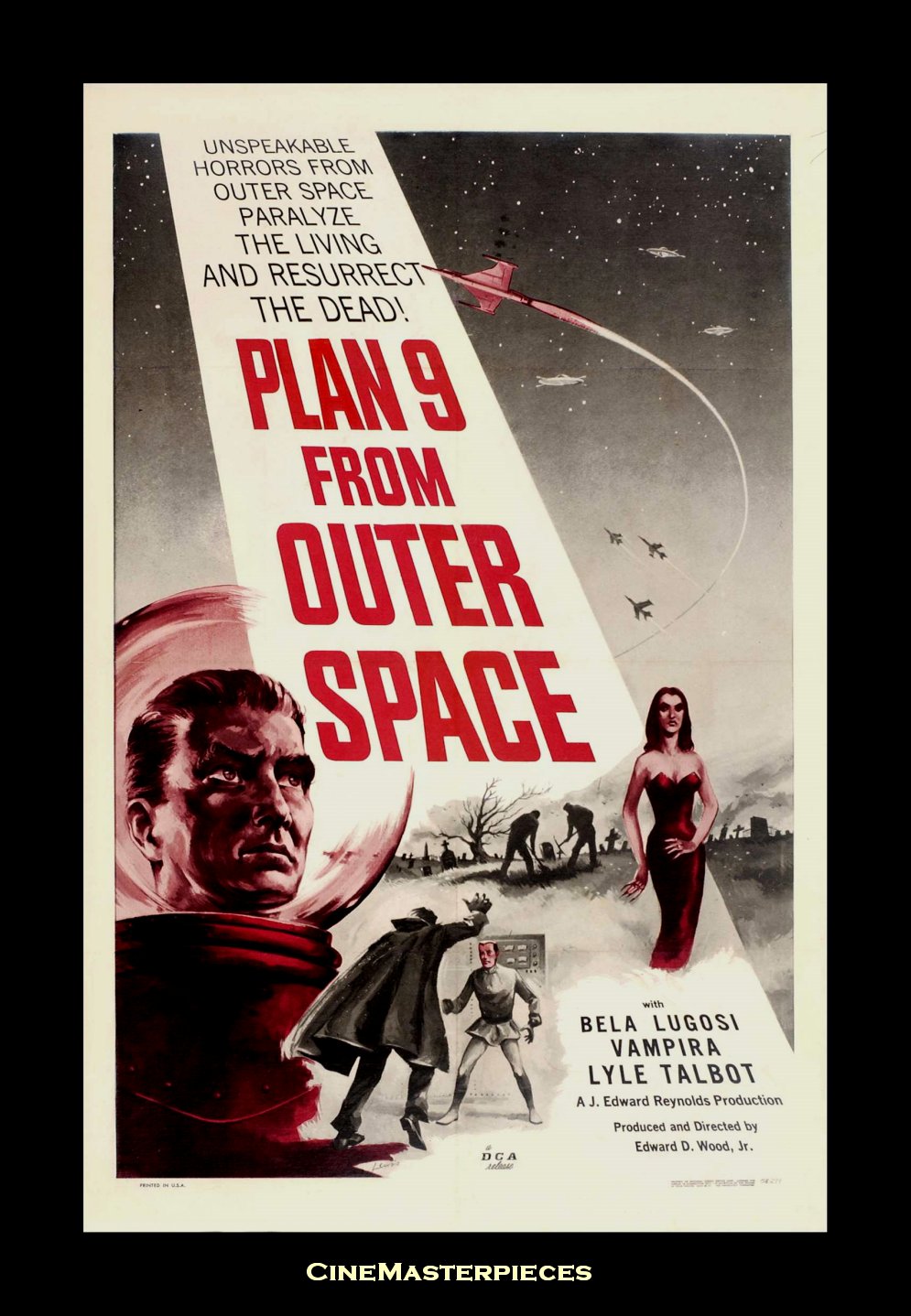 CREDITS

PRODUCTION
Production Company: Reynolds Pictures, Inc.
Producer: Edward D. Wood Jr
Executive Producer: J. Edward Reynolds
Associate Producers: Charles Burg, Hugh Thomas Jr

SCRIPT
Script: Edward D. Wood Jr

DIRECTION
Director: Edward D. Wood Jr

PHOTOGRAPHY
Director of Photography: William C. Thompson
Grip: Art Mankin
Stills: Larry Smith
Laboratory: Pathe Laboratory, USA

EDITING
Editor: Edward D. Wood Jr

MUSIC
Music Supervisor: Gordon Zahler
Music: Bruce Campbell (Desolat Village - uncredited); Wolf Droysen (Uneasy Sleep; Generator House - uncredited); Trevor Duncan (Grip of the Law; Dark Traffic; The Web Tightens; Lynch Fever - uncredited); Franz Mahl (Dark of the Moon; Mystic Night; Hypertension; Vigil - uncredited); John O'Notes (In Your Arms - uncredited); Van Phillips (The Tyrant; Manhunt; Homicide Squad; Mystic; Remorse - uncredited); Steve Race (Dry Throat - uncredited); Ward Sills (Hourglass - uncredited); James Stevens (Operation Room - uncredited); Gilbert Vinter (Toward Adventure - uncredited)

MAKE UP AND COSTUMES
Costume Designer: Dick Chaney

SPECIAL EFFECTS
Electrical Effects: Jim Woods

MISCELLANEOUS
Script Supervisor: Diana N. Loomis
Production Assistant: Donald A. Davis

LOCATIONS
Locations: San Fernando, California, USA; Quality Studios, Hollywood, California, USA

CAST
Gregory Walcott (Jeff Trent)
Mona McKinnon (Paula Trent)
Duke Moore (Lieutenant John Harper)
Tom Keene (Colonel Tom Edwards)
Carl Anthony (Patrolman Larry)
Paul Marco (Patrolman Kelton)
Tor Johnson (Inspector Daniel Clay)
Dudley Manlove (Eros)
Joanna Lee (Tanna)
John Breckinridge (The Ruler)
Lyle Talbot (General Roberts)
David De Mering (Danny)
Norma McCarty (Edith)
Bill Ash (Air Force Captain)
Reverend Lynn Lemon (Reverend)
Ben Frommer (man in cemetery)
Gloria Dea (woman in cemetery)
Conrad Brooks (Patrolman Jamie)
Vampira (rn: Maila Nurmi) (vampire girl)
Bela Lugosi (ghoul man)
Criswell (himself)
Johnny Duncan
Karl Johnson (Farmer Colter - uncredited)
Tom Mason (elderly man - uncredited)
J. Edward Reynolds, Hugh Thomas Jr (gravediggers - uncredited)
Edward D. Wood Jr (mourner at old man's funeral - uncredited)

A film:


A film elkezdődik, Criswell (született Jeron Criswell King (Aug.18, 1907 – Oct.4, 1982) tűnik fel a képernyőn. Köszönt minket és hallhatunk tőle egy velős és hatásvadász kis beszédet, ami a film hangulatát hivatott előkészíteni. Nem mellesleg ő egyébként is jövendölésből élt, a 'The Amazing Criswell' néven ténykedett, Ed Wood több alkotásában is feltűnik...




Az ég nagyot dörren, villámlik is, a kép vált és jönnek a kreditek... Aztán egy temetőt láthatunk, ahol maroknyi ember gyászol egy sír felett, köztük
Lugosi Béla
, a megözvegyült férj (sőt, maga a rendező,
Ed Wood
is köztük van) Oldalt két ember (sírásók, de inkább napszámosoknak tűnnek) nézik a ceremóniát. Béla teátrálisan fájdalmas jelenete következik majd távoznak a gyászolók. A két sírásó elkezdhet dolgozni.
Snit. Egy repülő szeli az eget, majd a pilótafülkét látjuk belülről, a két pilótával. Ejha, nem gyenge kis pilótafülke! Némi poénkodás a központal csak a klisé kedvéért, de közben valamiféle fény suhan át a fülkén mire az 'erőteljesen' megrázkódik. No, erre már a stewardess is bejön! Az ablakon kinézve (még jó hogy függöny nincs rajta) egy repülő csészealjat látnak, amit kötelességtudóan jelentenek is.
A csészealj 'gondos' makettháterek előtt elrepülve a temetőben landol, ahol felkelti a két sírásó figyelmét, mire azok inkább sietősen távoznak. Illetve távoznának, mert füstök közepette feltűnik
Vampira
(Maila Nurmi) és furcsa sikolyt hallatva végez velük (de persze ezt nem mutatják, a néző fantáziájára van bízva) Vegyük észre azt, hogy a kameraváltások egyike még nappal, a másik sötétben játszódik, holott időben a film szerint a jelenetek mindegyike ugyanabban az időben van!
Béla kilép házából és egy fehér színű virágot szakít, majd visszanéz és arcát tenyerébe temeti. Közben hallhatjuk, hogy felesége elvesztése mennyire megviseli. Ezután kisétál a képből, egy autó hangját haljuk és egy fékcsikorgást...vége, mármint Bélának (ide Wood szintén valami archiv felvételből vágott be olyan részt amiben szirénázó rendőrautók láthatók)
A gyászolók közül ketten állnak egy kripta előtt, itt már éjszaka van megint. Okfejtenek. A nő kiszúrja a megölt sírásók 'borzalmas' tetemét, sikolt. Valaki közben szólhatott a rendőröknek, mert azok szirénázva vonulnak ki a helyszínre.
Clay (
Tor Johnson
) és csapata megérkezik a helyszínre ahol úgy határoznak, hogy megvizsgálják a terepet. Tor a kocsihoz indul elemlámpáért mire kollégája utánna szól "vigyázz magadra", mire Tor hátraszól "nagy fiú vagyok Johnny" és három lépés múlva már a kocsijánál is van. Ahova bedobja zakóját és látszólag ugyanabból kiveszi a zseblámpát. Hát ez igen érdekes momentum, vagy inkább mókás.
Clay kutakodni kezd a temető sötét és ködös mélyén, gyanakszik, hát előveszi a pisztolyát is. Fura szagot éreznek a többiek, megérkezik a mentőautó.
A közelben, egy teraszon békés idilben űldögél egy párocska, a férfi a korábban látott repülőgép egyik pilótája. Felfigyelnek a szirénázásra és a férfi elmondja nejének, hogy látott egy repülő csészealjat és magasrangú tisztek megeskették, hogy erről soha nem beszélhet. senkinek Ahogy ezt kimondja 'vakító' fény suhan el felborítva mindkettőjüket.
A halottakat közben elszállítják, de őket is leteríti a titokzatos fénysugár. Néznek is rendesen... És azt látják, hogy egy UFO ereszkedik le a temetőbe. Tor el is indul, de nyílik a kripta ajtó és egy 'kísérteties' alak tűnik fel, arca elé leplet tart.
Ide tartozik az, hogy ez a karakter Lugosi Béla lenne. Viszont Béla a film forgatásának második hetében szívinfarktusban elhunyt. Ed Wood eleinte talán kétségbe esett, de Lugosi halála túlságosan nem tántorította el a film befejezésétől. Felkérte Lugosi csontkovácsát, hogy játsza el a karaktert, ha már úgyis annyira hasonlít Lugosira. Ez persze nem volt igaz, ezért a lepelt találták ki, hogy eltakarják a színész arcát.

Tor után ered, aki hátrafordul és észreveszi. Egy tárat ereszt beléje, de semmi, sőt, feltűnik Vampira is. (A Vampira: The Movie-ban beszélt arról, hogy fura ingadozó mozgását a süppedős talajnak és magassarkújának együttesen köszönhette) Tor valóban bajban van és ezt rendőr kollégái is megtapasztalják, mert mire odaérnek már halott.
Szerintük -természetesen- a csészealj tehet a dologról. Ezt a meggyőződésüket szóvá is teszik, így a film egyik legnagyobb mondata hangozhat el:
"...egy dolog biztos; Clay felügyelő halott, meggyilkolták... és ezért valaki felelős"
Mindenesetre az életben maradottak nem esnek kétségbe, gyorsan végső búcsút vesznek Clay-től.
Képsorokat látunk, amint csészeljak cikáznak a Hollywood Boulward felett éjjel és nappal. Lakossági bejelentések érkeznek, egy alkoholista dörzsölgeti a szemét, nem hisz a látottaknak és inkább leteszi az üveget...
Itt ismét valami katonai archivumból beollózott képsorok következnek, lövegekről, tankokról katonákról, amint lövik az UFO-kat ... mindhiába. Ezen a ponton a filmben egy igencsak buta, filozofálgatásoktól sem mentes beszélgetés zajlik le katona és parancsnok között.
A repülő csészealj 'regiment' visszatér a bolygó felett lebegő űrállomásra. Két selyem 'köpenybe csomagolt' idegen tesz jelentést a felettesnek egy igen szegényes díszletű teremben. Az (író)asztalon a kor sci-fi filmjeinek elmaradhatatlan kelléke: az oszcilloszkóp, meg még pár felismerhetetlen kütyü. Nagyon fontos!
Itt említik először a 9-es tervet, ami nem más, mint a halottak újraélesztése. Be is számolnak két sikeresen felélesztett egyedről, majd a függönyön át távoznak.