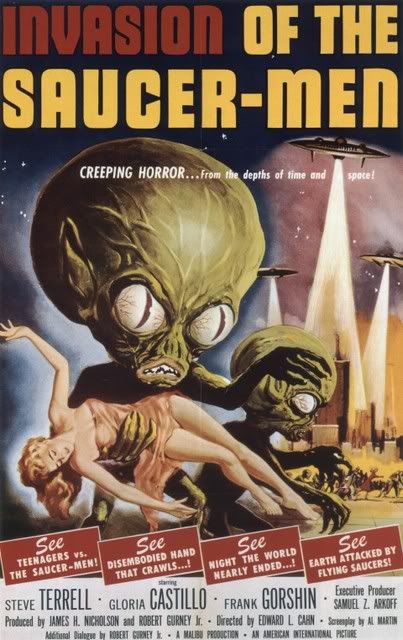 Johnny Carter (
Steven Terrell
) és Joan Hayden (
Gloria Castillo
) azt tervezik, hogy együtt megszöknek, de még előtte ellátogatnak a városszéli találkahelyre, ahol a szerelmesek tipikusan amerikai módon a kocsijaikban turbékolnak. Persze mindenki lekapcsolt fényszóróval közlekedik és némi piát is fogyaszt, ezért aztán a két szerelmes elüt valamit a kocsijával. Amikor kiszállnak, hogy megnézzék mi is az, egy kis zöld emberkét látnak (fekete-fehérben) Azt viszont nem veszik észre, hogy a halottnak hitt lény a kezeit lecsatolja (?) és valamiféle tűkkel (melyeket az újai végéből tol ki) leereszti a kocsi kerekét. A két szerelmes elindul hát gyalog, hogy értesítsék a hatóságokat. Persze a rendőrök azt hiszik, hogy ez csak valami hülye vicc, de amikor kiérkeznek a helyszínre ott valóban találnak egy testet. Egy fehér férfiét! Ezért aztán megvádolják a fiatalokat emberöléssel.
A férfi , akinek a holttestét megtalálják szintén belefutott az idegenekbe, akik egy repülő csészealjon érkeztek a földre. Igazából ő volt a legelső, aki meglátta őket és saját kíváncsisága ölte meg. A lények alkoholt fecskendeznek testébe az újjaikból kiálló tűkből és a férfi meghalt alkoholmérgezésben.
A szerelemes párocska meglép a rendőrségről és pár kaland után felfedezik, hogy a lények érzékenyek az erős fényekre. Most jön a nagy terv! Visszamennek a városszéli találkahelyre és minden ott lebzselő párocskát összeszednek. Elmondják nekik, hogy a fény megöli a lényeket és megbeszélnek egy egyezményes jelet, amikor is mindenki egyszerre felkapcsolja a kocsija fényszóróját. A terv beválik és a nagyfejű, zöld emberkék füstölögve elpusztulnak. The End.
------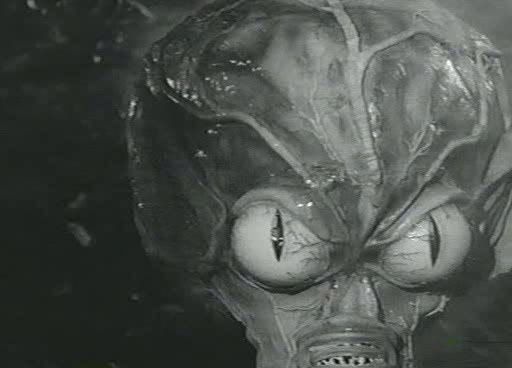 A film erősen amerikai, de elég jó volt, nincs unalmas pillanata. Máshol azt olvastam, hogy pont akkor nézhetetlen, amikor vicces próbál lenni, de én nem tapasztaltam ezt. Néhány szereplő megmosolyogtató, mások pedig nagyon idegesítőek. Főleg a nők, mert azok a szánalmas hajak és a fejhangú sikoltozások engem nagyon irritálnak, ráadásul Joan színészi játéka egyenlő a nullával. Ritkán mondok ilyet, inkább dicsérni szoktam...
Motoszkált bennem, hogy ez a film hasonlít az
I Was a Tennage.
.. filmekre és nem is csalódtam, mert az
American International Pictures
annak idején együtt vetítette az
I Was a Teenage Werewolf
-al együtt. A filmben játszik még
Frank Gorshin
(Joe szerepében), aki egyébként is rengeteg mozifilmben szerepelt, többek közt pl. az 1966-os Batman-ban, de kis szerepe volt
Terry Gilliam 12 majom
c. mozijában is Szegény Gorshin egyébként 2005-ben hunyt el.
Paul Blaisdell
neve biztosan nem sokat mond, pedig ő készítette el a kis zöld lények azóta legendássá vált maszkját, sőt, ő maga játszotta az egyiket. Emellett is igen sok B-film elkészítésében működött közre. Oh, még valami, ami említésre méltó: Blaisdell-el együtt ugyebár hat idegen lény érkezett a Földre (ezzel a létszámmal aligha számítanak 'inváziónak') és az egyik maszk mögött
Angelo Rossitto
rejlik, akit a
Freaks
-ben és a
Dracula vs. Frankenstein
-ben is láthattunk már, de
Lugosi Béla
néhány filmjében szintén feltűnik (
Spooks Run Wild, The Corpse Vanishes
), hogy a
Mad Max 3
-as és
Galaxina
-s szerepeiről már nem is beszéljünk. Nagy kár, hogy a tehetséget maszk mögé rejtették! Ő 1991-ben halt meg. Gooble Gobble :)
1965-ben
The Eye Creatures
címmel (aka
Attack of the Eyes Creatures
) egy
remake
is készült, szintén az
American International Pictures
kiadásában,
Larry Buchanan
rendezésében (aki jegyez még pár B-filmet) Ezt a filmet 1992-ben az
MST3K
is műsorára tűzte.
Néhány furcsa kérdés merült fel bennem a film nézése közben. Hogyan fértek el hatan abban a kis repülő csészealjban? A rendőrség, vagy katonaság tehetetlennek bizonyult az invázió ellen. Az ellen az invázió ellen, amit hat darab törpe és igen lassú mozgású idegen lény okozott. Ők ugyan tehetetlenek voltak, bezzeg a fiatalok seperc alatt leküzdötték őket és csak a fényszóróikat kellett felkapcsolniuk! Ezek a szaladgáló kezek meg mindig furcsák voltak számomra. Hogy tudnak még ugrani is? Mondjuk ebben a filmben még extrát is adtak hozzá azáltal, hogy egy szem is volt rajtuk. ;)
Ami nekem a leginkább tetszett: az egyik idegen és egy tehén összecsapása meg az öregember, aki állandóan a fiatalok birtokháborításai miatt dühöng.
És még egy kép a végére :)