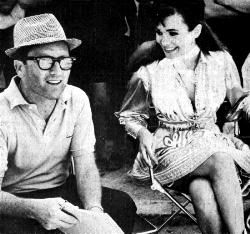 Charles H. Schneer
producer, akit leginkább
Ray Harryhausen
-el közös filmejiről ismertek január 21-én
Boca Raton
-ban (Florida) elhunyt. 88 éves volt.
Schneer egy ideig az Universal-nak dolgozott, aztán kezdett
Sam Katzman
B-filmjeiben közreműködni. Az
It Came From Beneath the Sea
forgatásán talákozott Harryhausen-el először. A film annyira alacsony költségvetésből készült, hogy a polipnak csak hat karja volt nyolc helyett! Ezután kettejük közös munkája olyan remek filmeket eredményezett, mint az
Earth vs. The Flying Saucers
és a
20 Million Miles to Earth
.
Schneer producerkedett Ronald Reagan
Hellcats of the Navy
c. filmjénél, sőt felesége Nancy Davis
Face of a Fugitive
-jénél is.
Miután meggyőzte Harryhausen-t, hogy színesben dolgozzanak, elkészítették leghíresebb és legnagyobb dobásukat az 1950-es
The Seventh Voyage of Sinbad
-ot. A Columbia-nál készített sci-fi mozik között olyan címek jutnak eszünkbe, mint a
The Three Worlds of Gulliver
, a
Mysterious Island
és a nagyszerű
Jason and the Argonauts
(ez utóbbira Schneer úgy emlékezett, mint kedvenc közös munkájára Harryhausen-el)
Schneer ezuután független producerként folytatta munkáját London-ban. Amikor aztán újra egyesítették erejüket Ray Harryhausen-el, az
MGM
égisze alatt azóta klasszikussá vált filmek sorát készítették el (
The Valley of Gwangi, The Golden Voyage of Sinbad, Sinbad and the Eye of the Tiger
és utolsó közös munkájuk a
Clash of the Titans
)
Norfolk-ban született, a Columbia Egyetemen végzett és filmes tanulmányait a II. Világháború alatt is folytatta, mialatt a Signal Corps-nél teljesített szolgálatot. Aktív tagja volt az
Academy of Motion Picture Arts and Sciences
-nek és elnöke a London Events Committee-nek (1989 és 1998 között)
Emlékezzünk rá egy nagyszerű jelenettel a Jason and the Argonauts-ból



És még egy videó, kis összeállítás a legjobb Harryhausen-Schneer produkciókból