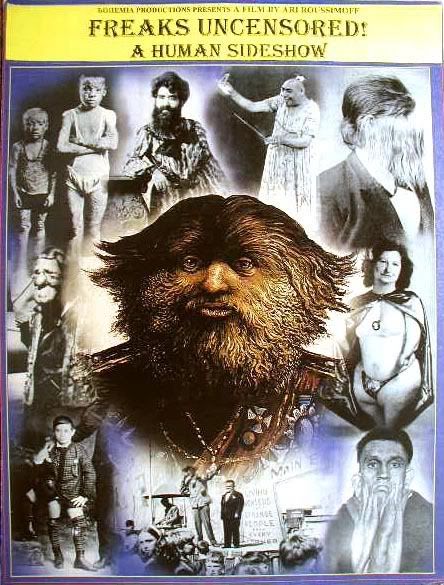 Nem, most nem a
Freaks
című filmről lesz szó, hanem egy olyan dokumentum filmről, amely az anyatermészet mostoha gyermekeivel és a
sideshow
-k világával foglalkozik (a filmhez hasonlatosan)
A rendező bizonyos
Ari M. Roussimoff
, akiről semmit sem tudtam eddig. Igazából két filmmel büszkélkedhet összesen, ebből az egyik a most tárgyalandó 1990-es doku, a másik pedig egy 1991-es horror film (
Shadows in the City
) Színészként már két filmben is találkozhattunk vele (Frankenhooker, Brain Damage), sőt festményeit is láttam már (szintén torzszülöttes témában) de ettől még továbbra is ismeretlen marad.
Egymás után jelennek meg a tipikus torzszülöttek. Néhányan 'csak' magasabbak, vagy alacsonyabbak voltak a kelleténél, mások viszont igen kemény torzulásokkal élték az életüket. Óriások, hatalmas lábú, vagy több száz kilóra hízott emberek, törpék, szakállas hölgyek, összenőtt ikrek, egy négylábú, kezek vagy lábak nélküli nők és férfiak sorjáznak szépen. Jó párat már én is ismerek közülük...
A film egyik nagy ereje számomra abban rejlett, hogy sok olyan archív felvételt mutat be, amelyet még nem láttam. Megszólalnak benne a
sideshow
-k még élő legendái és ismertebb alakjai, mint pl.
Jeanie Tomaini
, az akkor még életben lévő fél-nő,
Madame Xenobia
azaz
Jennifer Miller,
a szakállas hölgy (őt már láttam a
Tod Browning's 'Freaks': The Sideshow Cinema
c. dokumentum filmben),
Jack Dracula
(egy tetovált ember, róla is nagyon rég hallottam utoljára),
James Taylor
(ő a szerkeszti a
Shocked and Amazed
c. folyóíratot).
Csak, hogy néhány nevet is megemlítsek az ismertebb
freak
-ek közül:
Harry és Daisy Earles

: őket a

Freaks

-ből Hans-ként és Greta-ként ismertük meg. Harry pedig játszott

Lon Chaney The Unholy Three

c. mozijában (az eredetiben és a

remake

-ben szintén)


Robert Wadlow

: a maga nem csekély 272 centijével ő a valaha élt legmagasabb ember a világon. 22 évesen távozott az élők közül. Temetésén 40ezren vettek részt, fél tonnás koporsóját pedig 12-en vitték.

Johnny Eck

: fél-ember szintén a

Freaks

-ből, róla már írtam a blogon.


Jo-Jo

a kutya arcú fiú: ő egy elég ismert figurája a sidshow-k világának. Szent Péterváron született és szintén dolgozott

P.T.Barnum

-nak.

Lionel

az oroszlánfejű fiú

Howard

a rák ember

Schlitze

: a

Freaks

microcephalia-s kis szereplőjéről viszonylag sokat beszélnek.
------


Még valami: nem tudom miért kellett belekeverni a nácikat és a vallást? Ezt a dolgot leszámítva tetszetős kis dokumentumfilmet láttam.
És ha nem mondtam volna még: 1 óra 40 perc a hossza!
------

UPDATE (2010 june)
Just found this picture: