Nagy várakozásokkal ültem le a képernyő elé, mert ismét egy
Lon Chaney
mű került a kezeimbe. Kétszer kezdtem bele, úgy hogy elaludtam rajta, de most sikerült megnéznem. Végül is a film kissé elmaradt a várakozásaimtól, de ennek kifejezetten nem
Lon Chaney
az oka. Nem lehet mindig
Tod Browning
-al forgatni...sajnos. Ezt a filmet
Victor Sjöström
(alias Victor Seastrom), svéd származású rendező készítette Leonid Andreyev 1921-es könyvéből. És -bár én vitatom az eredményeit- a maga korában hangos sikert aratott mind a kritikusok, mind a publikum köreiben. A filmet forgalmazó
MGM
(
Metro-Goldwyn-Mayer
) filmstúdiónak ez volt a legelső saját készítésű filmje és ez a film segítette hozzá első átütő sikeréhez, ugyanis a film első körben 881.000 dollárt hozott a konyhára. Kis apróságként említem, hogy szintén ez volt az első film, amelyben az MGM logójában az ordító oroszlán szerepelt!
"In the grim comedy of life, it has been wisely said that the last laugh is the best..."
No, ezek után lássuk a filmet! A film mottója: az nevet, aki utoljára nevet. Paul Beaumont (
Lon Chaney
) egy tehettséges, de igen szegény tudós, aki feleségével Maria-val (
Ruth King
) egy Regnard nevű bárónál (
Marc McDermot
) élnek, a báró a jótevőjük. Beamont kutatásai az ember eredetével foglalkoznak. A hosszas, kitartó munka meghozza a várt eredményt és ezt nyílvánosságra is hozzák egy tudományos gyűlésen. Csakhogy a báró az eredményeket a sajátjaként közli és amikor Beaumont ezt szóvá teszi megalázzák, kinevetik és még arcon is csapják. Szenvedési betetőzéseként még az is kiderül, hogy a báró és felesége összeszűrték a levet egymással...
Nem sokkal később egy cirkusz állít sátrat a városban és egy új műsorszámot ad elő. Ennek a produkciónak a főszereplője '
HE
' a bohóc ... és a mellékszerepben még hatvan másik. A műsor lényegeként HE kiáll a színpadra és tesz pár kijelentést, melyekre mindig egy-egy hatalmas pofon a válasz. Azt hiszem ezeknek a képsoroknak erős szimbolikus jelentése van és jól is vannak megcsinálva. A publikumnak pedig tetszenek a látottak, sírva röhögnek. Végül a porond-mester jelképesen kitépi HE szívét és egy gödörbe temeti.
Később egy
Count Mancini
nevű olasz mutatványos érkezik a cirkuszba és meggyőzi az igazgatót, hogy alkalmazza lányát
Consuelo
-t (
Norma Shearer
). Az igazgató belemegy az alkuba és azt tervezi, hogy
Bezano
-val (
John Gilbert
) saját lovas sztárjával közös műsorban szerepelteti őket. Persze a két artista rögtön egymásba szeret, de esélyük sincs, mert
Mancini
-t megkörnyékezi a gonosz
Regnard
báró és pénzt ajánl neki, hogy a lányát neki adja feleségül. HE persze azonnal felismeri a bárót, az viszont nem lát a bohóc álarca mögé.
HE reménytelenül beleszeret
Consuelo
-ba, mert rabul ejti a lány szépsége és tisztasága (ez elég klisés) de amikor elmondja a lánynak mit érz iránta az azt hiszi, hogy csak viccel vele. HE azt is elárulja neki, hogy az apja eladta a bárónak pénzért és az esküvőt rögtön az esti fellépés után fogják megtartani. Miközben a lány és
Bezano
a porondon mutatják be számukat, a gonosz báró és
Mancini
poharazgatással múlatják az időt és ünneplik fortélyos tervüket. HE mindent megtesz, hogy idegesítse őket és tudtukra hozza, hogy minden részletét ismeri a tervüknek. (Ez a jelenetsor a film egyik csúcspontja, szépen van felépítve és jól fokozza az izgalmakat)
A katarzisban
Regnard
felismeri HE-t,
Mancini
pedig leszúrja. Amikor azonban el akarják hagyni a tett színhelyét az egyik ajtót zárva találják, a másik ajtó mögött pedig egy oroszlán vár rájuk. természetesen HE rendezte így el már jó előre. A bohóc haldoklik, de még végignézheti, azt ahogy az oroszlán végez mind a két férfival. Végül aztán megmenekül és ekkor megszólal a csengő, amelyik a porondra szólítja. HE még élete utolsó produkciójára felmegy a színpadra és belekezd számába, de egy idő után elesik és a többiek megdöbbenve tapasztalják, hogy haldoklik. Végül hősként hal meg...
------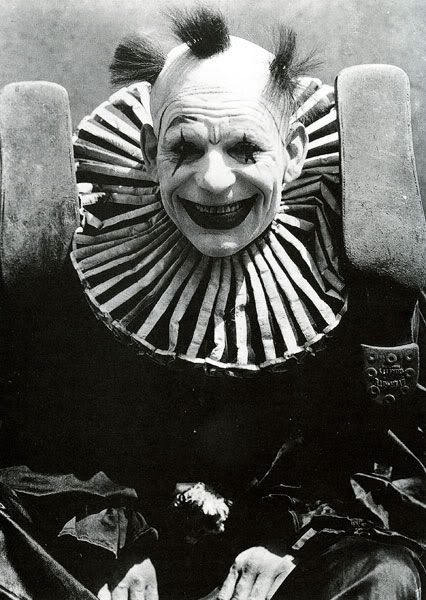 Érdekességként hozzáteszem még, hogy Andreyev eredeti művében -amiről a film forgatókönyvét készítették, eredeti címén:
Tot, kto poluchayet poshchechini
- nem csak
HE
hal meg, hanem
Consuelo
is, miután egy üveg mérgezett borból iszik. Történelme folyamán az
MGM
mindig is ellenezte a boldogtalan befejezéseket, még a némafilmes korszakban is.
Szintén érdekesség, hogy Chaney egymaga kreálta meg saját
makeup
-ját a filmhez, de a szerepének minél valósághűbb alakításához mások segítségét kérte.
George Davisand és Erik Stocklassa
svéd művészek, valamint
Ford Sterling és Clyde Cook
híres hollywood-i bohócok a filmben is szerepelnek. Sőt, egyes állítások szerint maga
Lugosi Béla
is bohóc jelmezt öltött, bár a stáblistán nem említik meg a nevét.
Victor Sjöström
rendező olyannyira el volt ragadtatva a főszereplő
Lon Chaney
játékától, hogy bármerre is járt, mindenfelé azt hangoztatta, hogy 'ő a legnagyszerűbb színész a mozivászon és a színpad történelmében'
Chaney-nek saját bevallása szerint ez volt a kedvenc filmszerepe (máshol viszont azt lvastam, hogy a Laugh Clown Laugh - ami szintén bohóc témájú filmje)