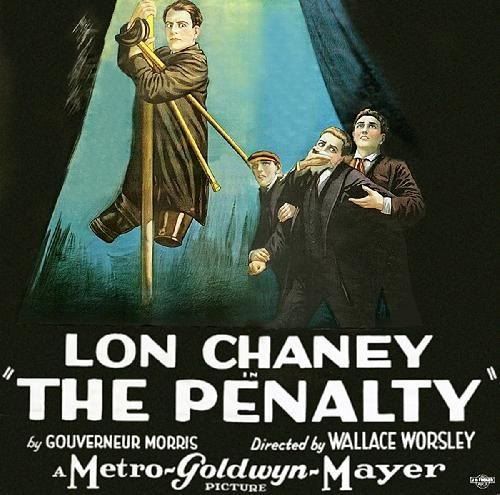 Nagy várakozás előzte meg a film megnézését, már rég óta tervezgettem, hogy beszerzem és megnézem. Annyira tudok örülni ilyenkor, hogy vannak emberek odakint az Interneten, akik -hozzám hasonlóan- bele vannak pistulva a '
silent era
' gyöngyszemeibe. Minél többet látok ezekből a ritka kincsekből, annál inkább értéktelenednek el korunk csili-vili filmes rettenetei és CGI csodái.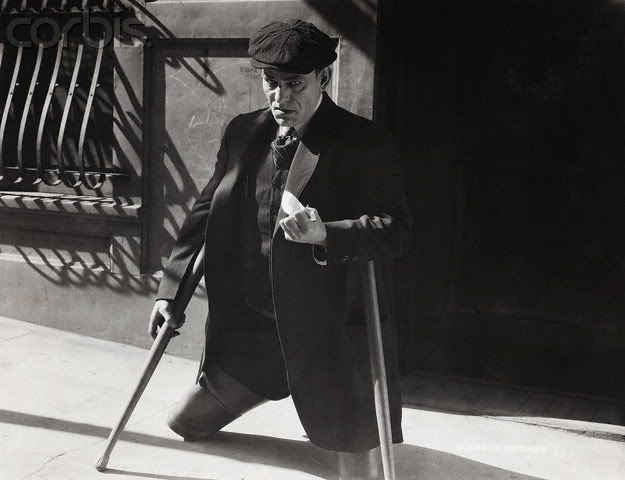 Ezek után lássuk csak a filmet és körülményeit:
1920-at írunk.
Lugosi Béla
ebben az évben érkezik Amerika földjére, akkor még senki sem ismeri és senki sem sejti, hogy 10 évvel később ő lesz minden idők leghíresebb vámpírja. A
lfred Hitchcock
szintén ezévben kezdi meg filmes pályafutását. Róla sem mondaná még meg akkor senki, hogy a feszültségkeltés legnagyobb mestere lesz.
Paul Wegener
elkészíti a
Gólem
-et,
Buster Keaton
pedig a
The Scarecrow
-t. Szintén még ebben az évben megszületik
Federico Fellini, Ray Harryhausen, Walter Mathau, Ray Bradbury
és még jónéhány filmes óriás.
Lon Chaney
pedig első főszerepei egyikét játszotta el hihetetlen példás módon
Wallace Worsley
nagyszerű filmjében a
The Penalty
-ban.
Néhány mondatban a film sztorija: Kezdetben látjuk San Francisco városát (csodás korabeli felvételek) a város kocsiforgalmát és egy balesetet. Aztán egy orvost, aki egy másikkal éppen a baleset kis áldozatáról beszélget. Ők Dr.Ferris és Dr.Willmot Allen. Elkerülhetetlen volt dupla amputáció a lábon, térd felett! Brrr, már ráz a hideg. Ekkor kiderül, hogy az amputáció teljesen fölösleges volt. A gyermek szülei megérkeznek és a két orvos -hogy a műhibát eltusolják- hazudik és szükségesnek állítja be az operációt. A gyermek azonban már öntudatánál van és hallja a két férfi beszélgetését...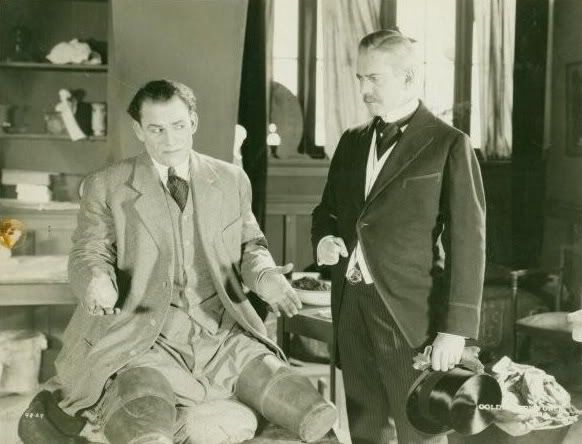 27 évvel később folytatódik a történet. Hóvihar (Blizzard) már a Frisco-i Alvilág könyörtelen és véreskezű ura. Bár lábai nincsenek, rendkívül agresszívan és ellentmondást nem tűrően irányítja embereit, akik mindenhol ott vannak. Miközben San Francisco teljes kifosztására készül nem feledkezik meg egykori megcsonkítóiról sem, akik időközben szép karriert futottak be és híres sebészorvosok lettek.
A rendőrségnek nyílván tudomása van Hóvihar ténykedéseiről, de mivel az egész bűnszervezetet szeretnék lecsukni még bizonyítékokat kell szerezniük. Hóvihar viszont kalapkészítő műhellyel álcázza tevékenységét, ezért aztán beszervezik Rose-t, a téglát, aki elkezd dolgozni a műhelyben.
Bár Hóvihar rettenetesen indulatos ember, a művészetektől -főleg a zenétől- elérzékenyül. Amikor zongorázik, lábak híján Rose-t használja pedálozónak és később, amikor rájön, hogy a nő besúgó, képtelen bántani. Ahogy ő mondja: bármit meg tud ölni, de a zenét nem! Rose ezért felnéz Hóviharra, mert meglátja benne az emberi lényt és később menthetetlenül bele is szeret.
Időközben Barbara (Dr.Ferris lánya) aki a szobrászatnak szeretné az életét szentelni, modellt keres szobrához, melynek témája: a Sátán bukás után. Hóvihar jelentkezik a feladatra és idővel a hatása alá vonja Barbara-t, de persze óhatatlanul találkozik az apjával és a lány szeretőjével is. Ők ketten tehetnek Hóvihar nyomorúságáról és ezt hamar világossá válik mindkettőjük számára. Viszont Hóvihar nem tűnik túlságosan haragosnak...mert ő már tudja, hogy mit is szeretne kihozni a helyzetből.
A végkifejletben Hóvihar elcsalja Barbara vőlegényét a házába és ott rabul ejti. Aztán Dr.Ferris-t is áthívja és kényszeríti, hogy a vőlegény lábait operálja át az ő testére. Erre a célra már egy jól felszerelt és előkészített műtő áll rendelkezésére az alagsorban. A doktor figyelmezteti, hogy eddig még csak állatkísérletekben, majmokkal sikerült a transzplantáció, de Hóvihart ez nem érdekli. A doktor belemegy a műtétbe... és ekkor jön a meglepetés, amit én itt nem írok le, mert nem akarom 'elspoilerezni' eme remek film katarzisát. Nézze meg mindenki, akit érdekel és biztos vagyok benne, hogy azt fogja mondani, hogy ilyen csavarra nem számított! És a csavar után tekernek még egyet a történeten, ám ez csak még szomorúbbá teszi a filmet...
------
Ugyebár Lon Chaney játssza a filmben Hóvihart, az amputált lábú gengsztert. Ehhez a szerephez mindkét lábát összeszíjazta behajtott állapotban, hogy úgy tűnjön, mint akinek valóban nincs lába. Ez a tortúra olyan szintű fájdalmakat okozott, amit csak 10 percig volt képes elviselni! Emellett a térdkalácsain kellett járnia, ami szintén nem lehetett kellemes dolog. Az eredeti film végén -egy plusz jelenetben- Chaney lejön egy lépcsőn, hogy bizonyítsák a nézőknek, valóban van lába.
Az IMDb minden kategóriába beszuszakolta a filmet, csak a horrorba nem, pedig ez a film horror! Ha a
Nosferatu
vagy a
Dracula
horror, akkor ez is az. Én még nem láttam 1920-as filmet, amiben ilyen brutálisan megkéselnek egy nőt! Van még itt női meztelenség is, ami szintén rendhagyó és provokatív lehetett a maga korában.
Hozzáteszem még, hogy
Wallace Worsley
rendezőnek nem ez az egyetlen filmje Chaney-vel, ugyanis ő rendezte még a
Hunchback of Notre Dame
-ot és a
The Ace of Hearts
-t is. Az előbbit már láttam, az utóbbi pedig még itt lapul és vár :)